Head pillowed on arms, Laura stared up into the glorious clear blue sky. She'd never seen such magnificence, never felt so calm and relaxed.
"Beautiful day, no?"
Aiden's smooth, dulcet voice broke the stillness. Laura tensed but forced herself to relax. She kept silent hoping he would keep on his way. She liked Aiden, a lot, but had no idea how to channel her tumultuous infatuation. A flush of heat wafted over her as he settled down lengthwise beside her, her heart thumping a staccato.
"What are you doing, so far from town?" He smiled at her.
"Just counting crows."
~*~*~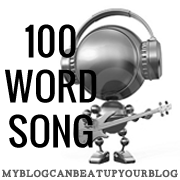 The song this week for Leeroy's meme is Counting Crows "Come Around" I like Counting Crows but I'm not as familiar with this song and the lyrics just didn't speak to me so I went with the obvious influence

This scene is just a random one from Loved Labored Lost. I'm not sure where it falls overall but it's before Laura really gets to know Aiden.