Took him less than 2 minutes. He's taking this "flash" thing literally

~*~*~
The pain roared from his chin to his eardrums. Her fist was cocked and her eyes yelled that she was going to throw another punch.

"Whoa! What's gotten into you?" he asked as he rubbed the stubble on his cheek.

"Come on, you said you wanted to spar, so let's fight" she said.

He rolled his jaw from side to side. "yeah, but I thought we'd practice some wrestling and maybe roll around a little…I was hoping all the contact might lead to something more fun" he said with a grin.

She stared. "No," she whispered, and unloaded another jab.
~*~*~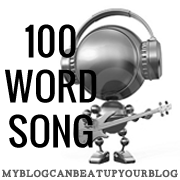 The Husband's interpretation of Matchbox 20′s song Push, courtesy of Mel. Lance should like this (it's dealing with fighting after all)