The pounding subsided to a dull roar in Laura's head as she slumped into a fetal position. Her baby protested the compressed position of her rib cage on her womb by kicking furiously. A flicker of coolness gusted across her forehead.
"Hot," she mumbled. Hands gripped her shoulders, pulling her upright.
"Laura? Open your eyes Laura."
The voice overlay the grotesque visions dancing in the raging fires that raced through her veins. Icy skin rested against her face.
"Dear God, you're burning up. Laura, I'm getting you to a hospital."
Laura nodded before sinking into the fiery hells of oblivion.
~*~*~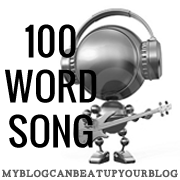 Lance's post will be up tomorrow but I had some inside knowledge about the song *grin*
Leeroy liked my piece last week and gave his boy Lance the okay to let me pick this week's song. I've picked before so I gave the job to The Husband. He loves music and has his favorites. In fact, I've been told there are 10 of the greatest songs in the world all on his list. What a coincidence, hmmm? 
The song this week comes from the late, great Warren Zevon. You all probably know him for his only commercial success, Werewolves in London, but I've had the pleasure of being exposed to some of his other fabulous work, including Monkey Wash, Donkey Rinse.
This scene follows immediately after here. Want all my stuff on Laura? Click here: Loved, Labored, Lost
Oh, and The Husband even wrote his own bit of flash for this week's song!! Click here to read it